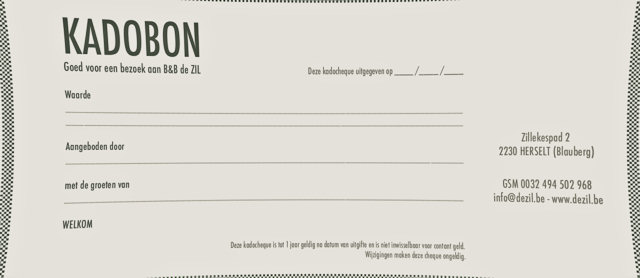 Special people... deserve a special gift
Looking for a special gift? You can buy a gift voucher for one or more nights in de ZIL, either for a specific date or for a date the reciîent can choose.
You can contact us via email
info@dezil.be
Please mention the following details:
Name of the person receiving the voucher
Name of the person giving the voucher
Number of nights
If applicable, message you would like to write on the voucher (E.g. "happy birthday")
Postal address the voucher will be sent to
Your phone number or email address
As soon as we receive your payment, the gift voucher will be sent in a beautiful envelope. Account number BE19 0689 0509 5812.
Please mention the name of the recipient in the reference of your bank transfer.
The voucher is valid for 12 months.